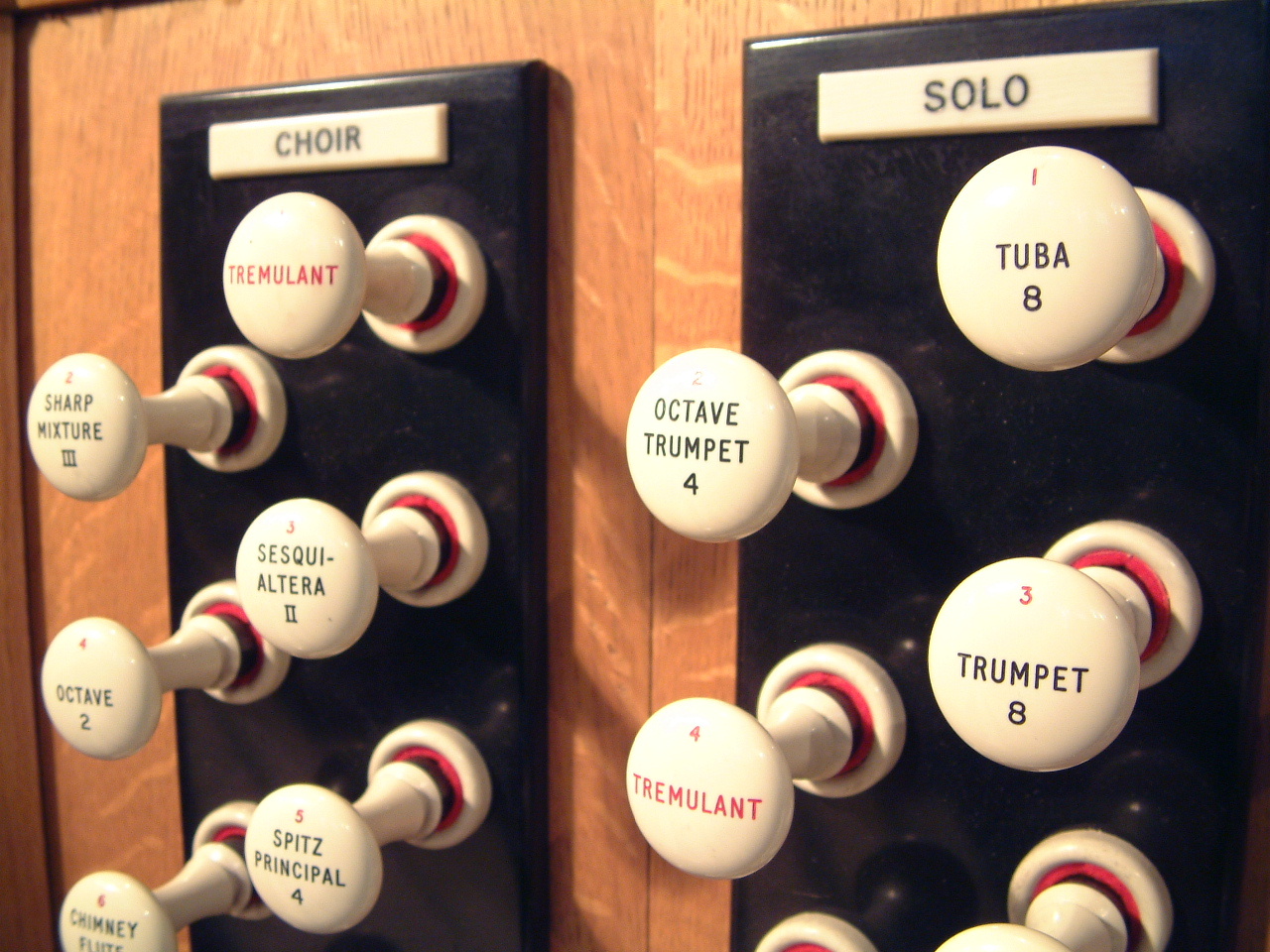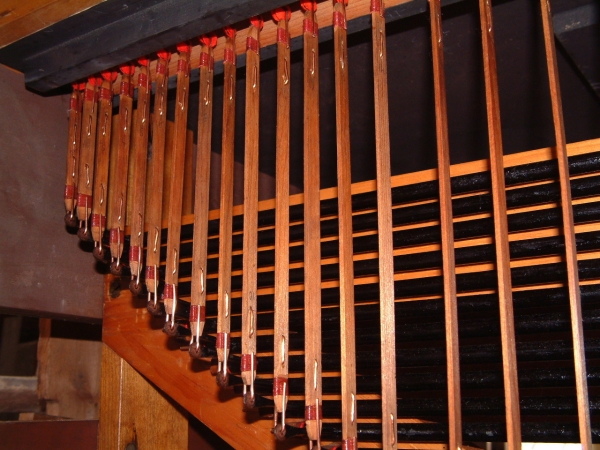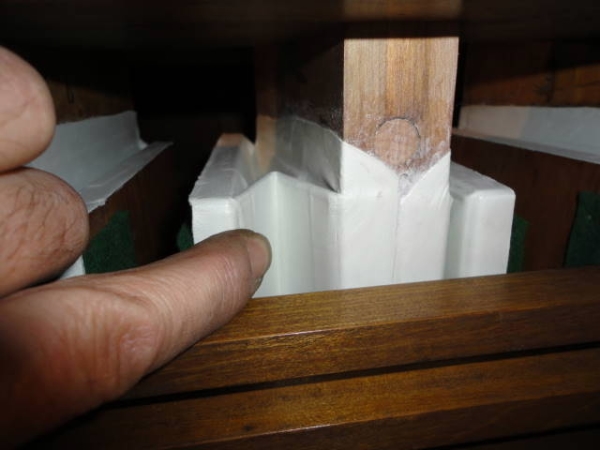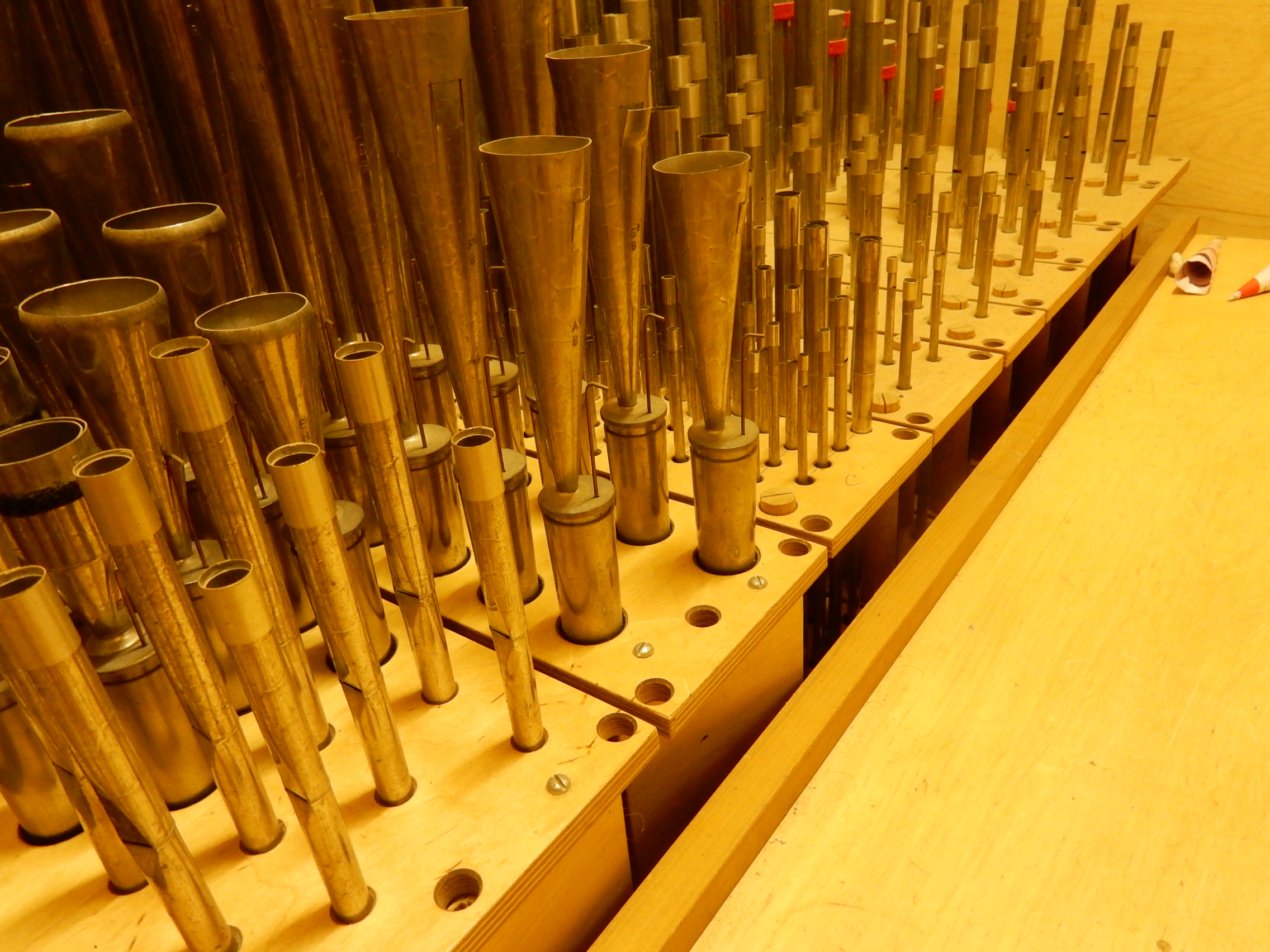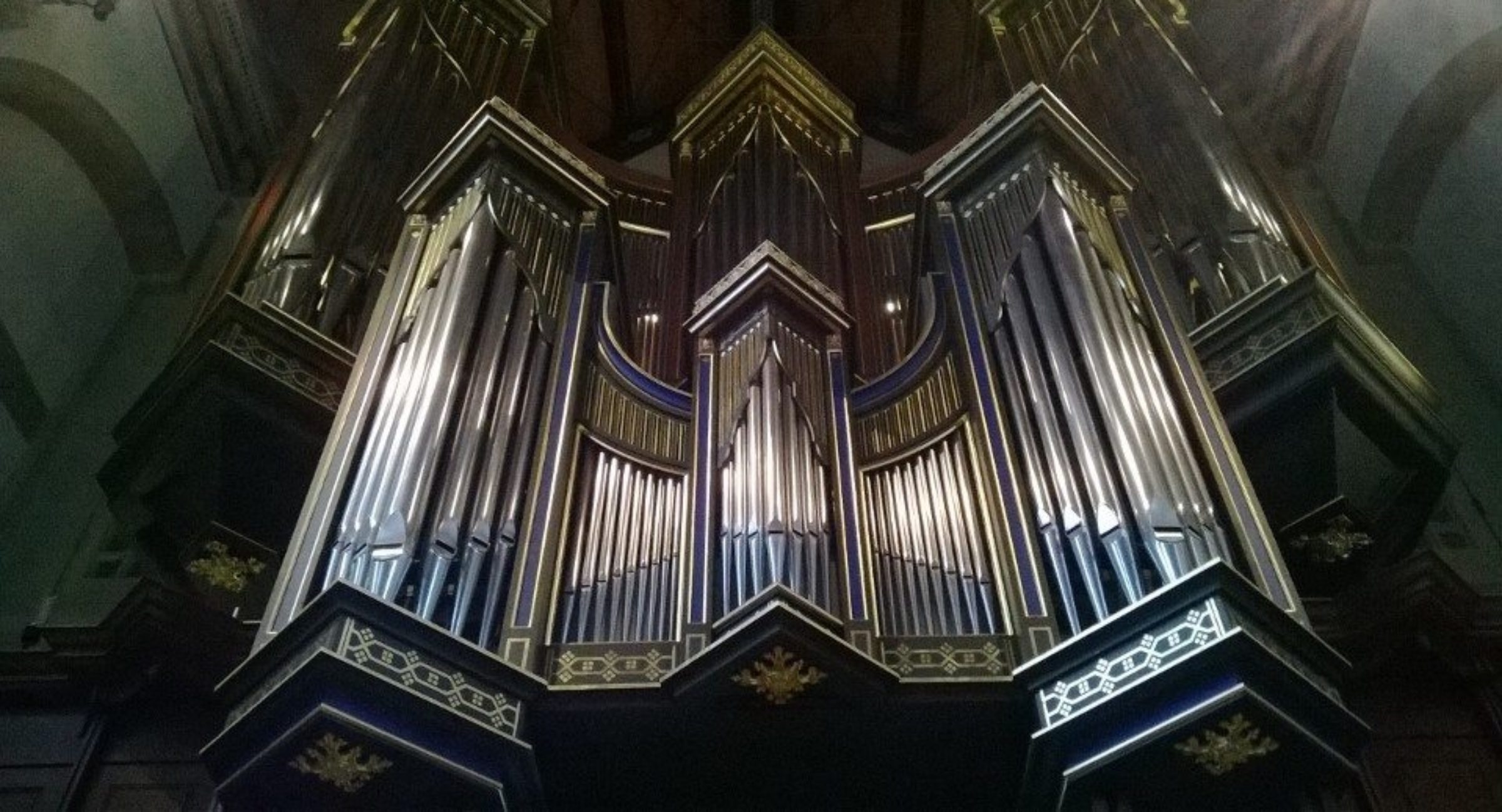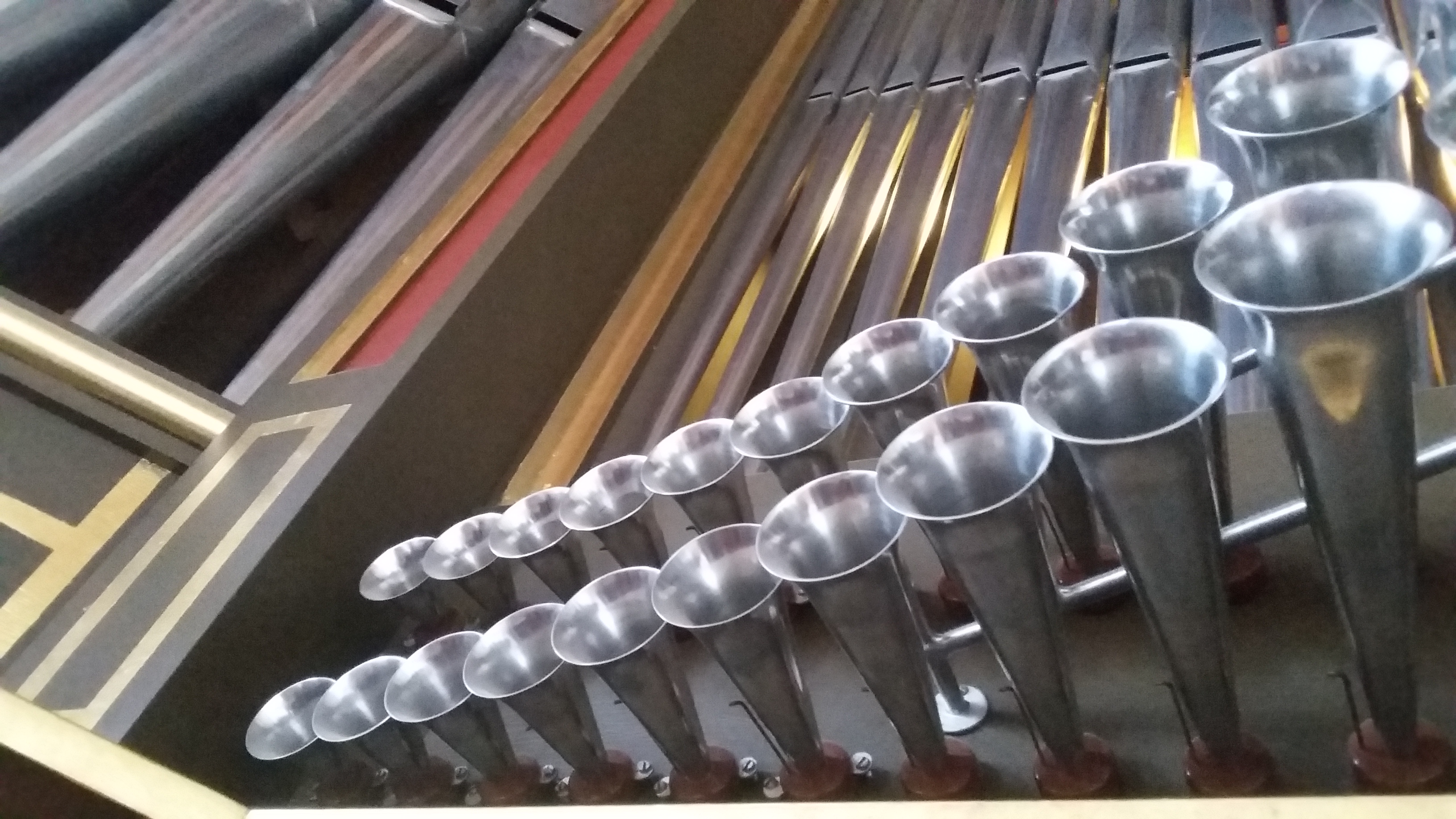 Projects
We have experience in a wide variety of projects,  adding a heavy-pressure Tuba on 13" pressure,  for the Solo division at St George's Church, Beckenham.  At Horsmonden Parish Church, we restored an early Hill organ with tracker action,  gaining accreditation for Historic Restoration with The Institute of British Organ Building. Leatherwork is an important discipline and for St John's Church, Stratford, E15, we restored the console piston 'book' motors, which collectively move groups of stops when pistons are pressed.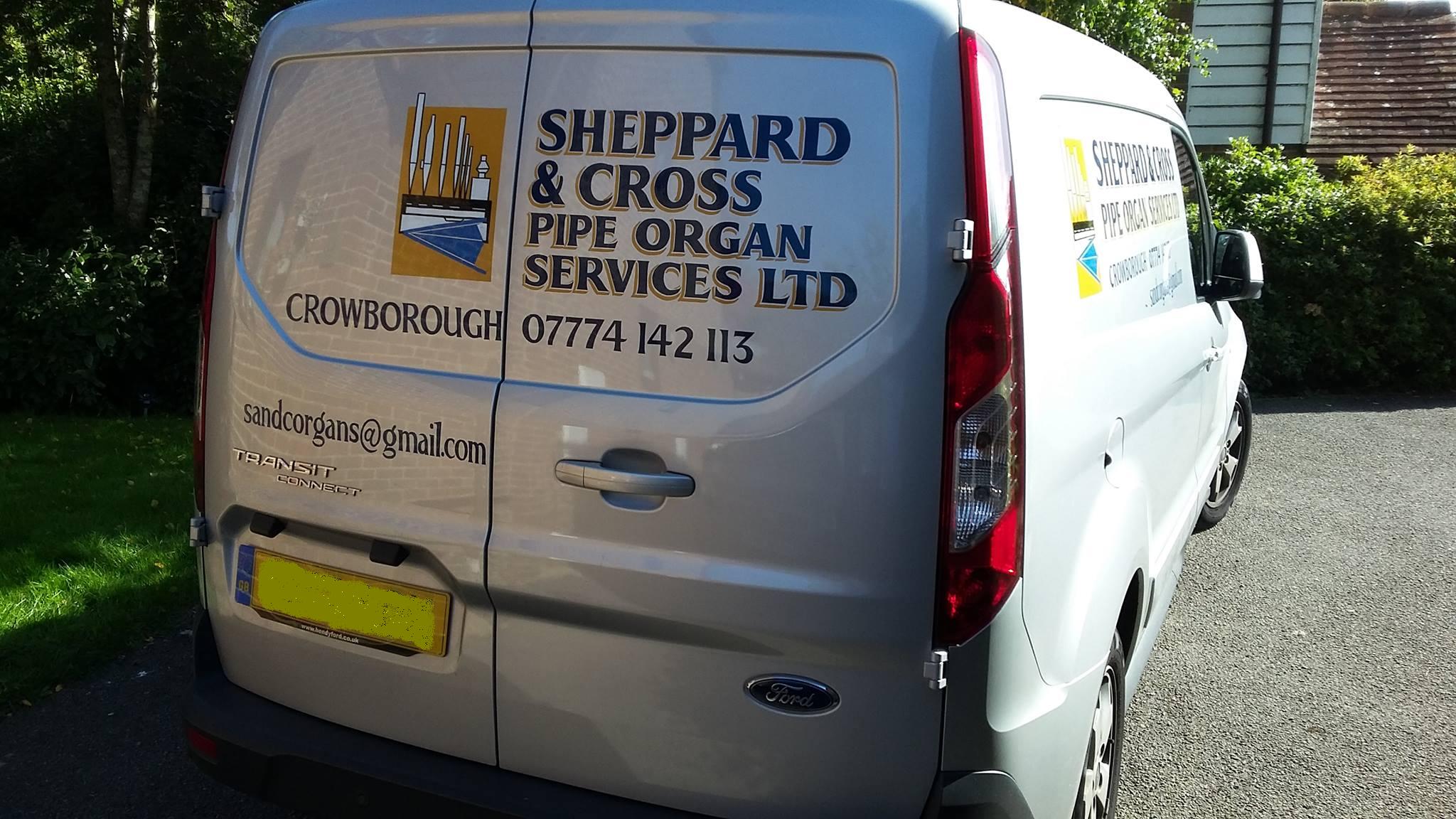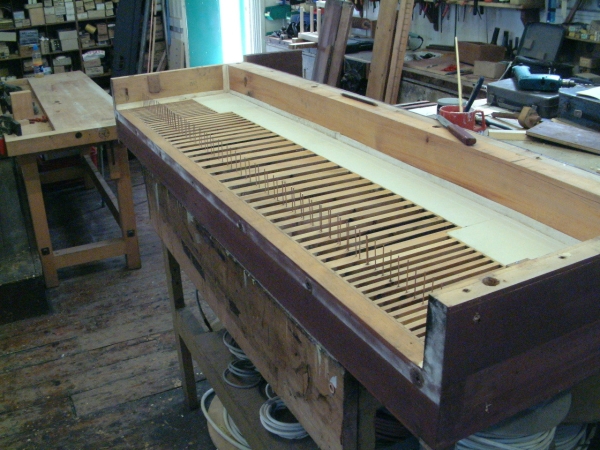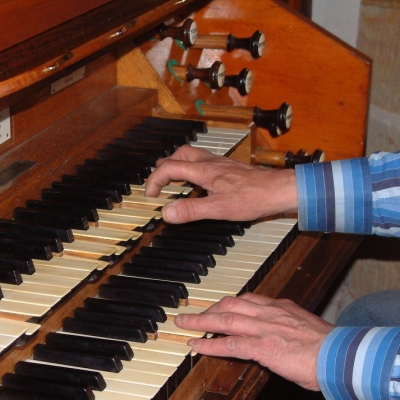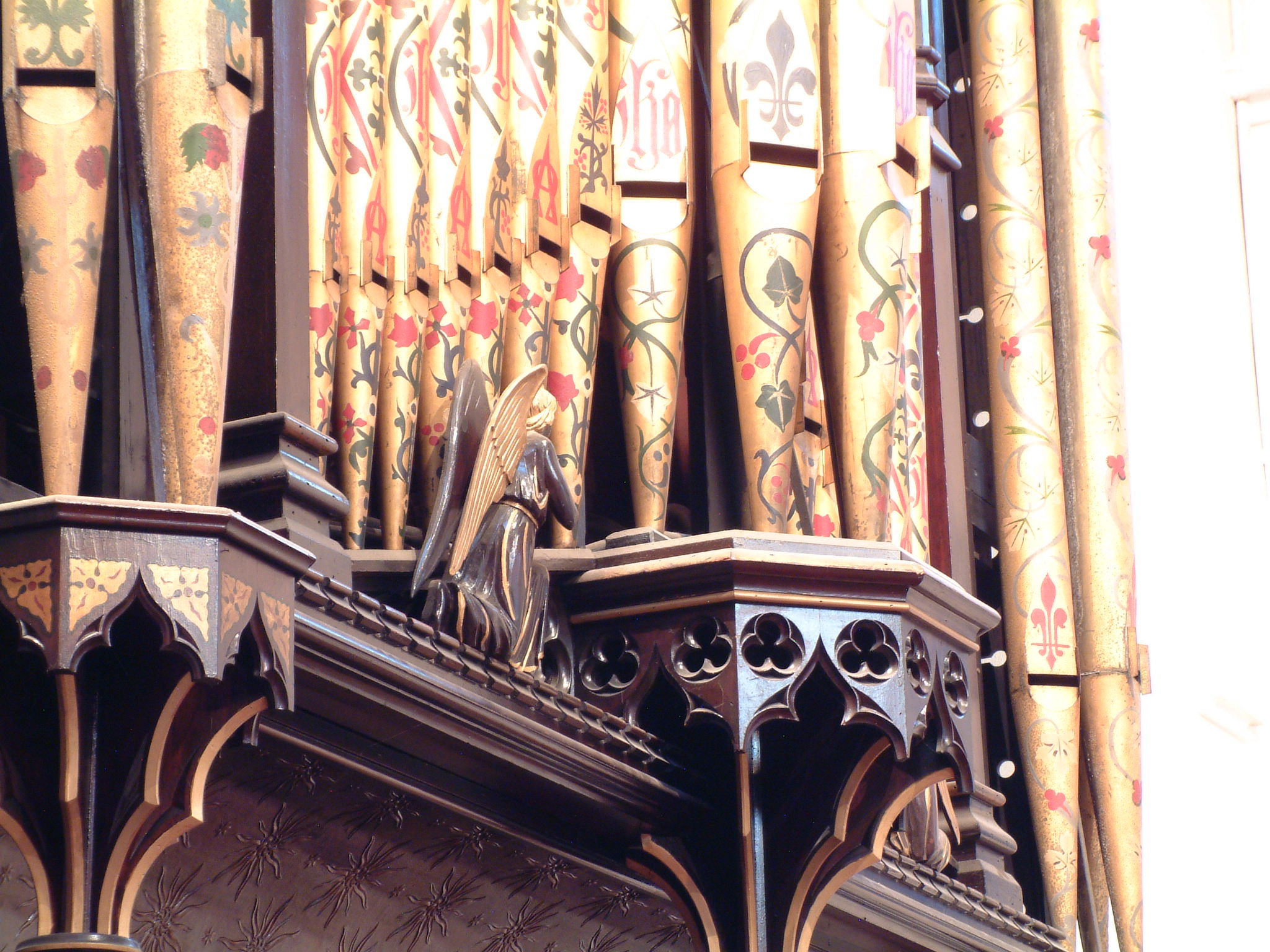 Recent projects
The small Walker Positive organ in St James's Catholic Church, Petts Wood has been cleaned and overhauled and the pipe speech properly revived. The switching system has also been upgraded to eliminate the old electro-mechanical switches.
Two large Pedal windchests have been refurbished on the III/P organ at Caterham United Reformed Church and the Pedal specification revised to re-introduce a 32ft Sub Bass, which had been removed in 1971. This was achieved in collaboration with Kim Faulkner of KATech Services, by re-programming the Dedham transmission system.
The 1991 Walker organ in St George's, Bickley has undergone refurbishment of the keys and pedalboard, after 30 years of wear and tear.
St Augustine's, Thorpe Bay has received a new Cymbelstern, given in memory of former organist & choirmaster, Victor Knill, who served for 65 years. A rotating star will be installed at a later date, to compliment the eight tuned brass bells.
The console for Epsom, St Martin of Tours, has received a significant upgrade. The manual keys are completely new, with a plentiful array of pistons and accessories, including stepper pistons in the treble end key cheek. The Taylor piston capture action has been expanded within its design capacity to provide additional memory levels.
Still to come,  further works are planned for:
Pangbourne Roman Catholic Church
Redhill, St John the Evangelist
Recently completed :
Bromley Common, Holy Trinity Church : refurbishment of 2-stop Pedal windchest and pipes following rainwater damage.
Bromley, St Mark : refurbishment of Choir keyboard, to replace damaged bone-resin natural coverings and renewal of water-damaged key contacts.
Mayfield, St Dunstan :  Revoicing the Pedal Trombone 16', in collaboration with reed voicer, Michael Blighton.
Hadleigh, St James the Less : Cleaning & small repairs
Lambourne, St Mary : Overhaul of Pedal Bourdon 16' action.
Buxted, St Margaret The Queen :  Cleaning and overhaul.
New Addington, St Edmund, King & Confessor : Pipe and action repairs to a Walker Positif organ.
Hutton, All Saints Church : Cleaning of the 1885 I/P 10-stop Miller of Cambridge and refurbishment of the double-rise bellows.  Changes made to the Sesquialtera II in 1978 have been reversed, based on supporting evidence from another Miller organ.
Yalding, St Margaret's Church : Cleaning of a II/P 21 stop 1909 Conacher organ.  Tonally unaltered, save the addition of a wooden Trombone 16' by Martin Cross in 1981, this organ retains its cone-tuning, and substantial Great Diapason 8' with leathered lips.  This organ is notably powerful with unusually vigorous chorus reeds.  The Swell and Great electro-pneumatic stop machines have also been fully refurbished.